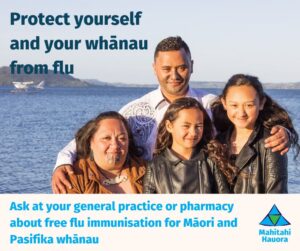 Protect yourself and your whānau from flu this winter.
For Māori and Pasifika whānau, getting immunised against flu at your GP this winter is free in Tai Tokerau.
Flu can make you feel very sick and cause serious illness, and it spreads easily.
Getting immunised means you are less likely to pass flu to vulnerable members of your whānau.
Anyone six months or older can get immunised.
Ask at your general practice or pharmacy for more information.